[CANCELLED] Kožená / La Cetra / Monteverdi & Berio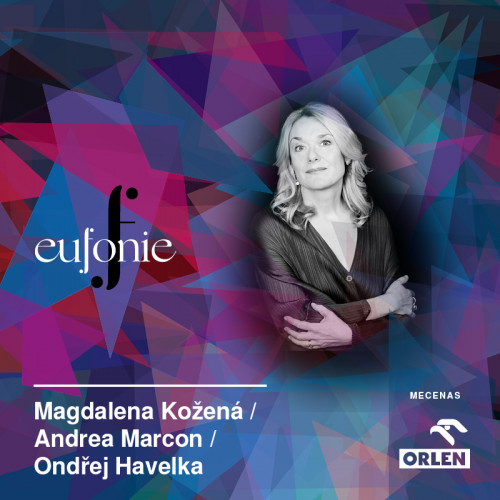 The evening will be filled with the sounds of the masters of the Italian Baroque
This music cannot be often heard in concert halls. We are all the more pleased to invite you on a journey back in time – to Italy at the turn of the 17th and 18th centuries, when organ and string music flourished in Europe, opera gained popularity, and the audience listened to the first sonatas and overtures.
This evening's repertoire includes Baroque masters: Marco Uccellini, Claudio Monteverdi, Tarquinio Merula, Biagio Marini and contemporary composers - Marko Ivanović and Luciano Berio. Their songs will be interpreted by Magdalena Kožená - an outstanding Czech opera singer, accompanied by Andrea Marcon, who plays the harpsichord and La Cetra Barockorchester Basel specializing in baroque sounds. The music will be complemented by costumes, set design and props prepared especially for this concert.
---
Monteverdi & Berio: Con che soavi accenti
Marco Uccellini (1603–1680)
Aria quinta, sopra la Bergamasca a tre from Sonate, arie e correnti op. 3 (1643)
Claudio Monteverdi (1567–1643)
Disprezzata regina (Ottavia – Act I, scena 5) from L'Incoronazione di Poppea (1642)
Tarquinio Merula (1595–1665)
Folle è ben che si crede from Curtio precipitato et altri capricii, Libro secondo op. 13 (1638)
Tarquinio Merula
Sonata XXIV, Ballo detto Pollicio from Canzoni overo sonate concertante per chiesa e camera op. 12 (1637)
Claudio Monteverdi
Si dolce è il tormento from Quarto scherzo delle, Ariose Vaghezze (1624)
Dario Castello (1590–1658)
Sonata XV a quattro from Sonate concertate in stil moderno, Libro secondo (1629)
Marko Ivanović (ur. 1976)
Ariadne has a problem to the text of Ondřeja Havelki (2015/2016)
Luciano Berio (1925–2003)
Sequenza III -female voice (1965/1966)
Break
Biagio Marini (1594–1663)
Passacaglio a quattro from Per ogni sorte di strumento musicale diversi generi di sonate, da chiesa, e da camera op. 22 (1655)
Claudio Monteverdi
Il combattimento di Tancredi e Clorinda from Madrigali guerrieri et amorosi, Libro ottavo (1638)
_____
Magdalena Kožená – mezzo-soprano
Andrea Marcon –harpsichord, conductor
La Cetra Barockorchester Basel
Ondřej Havelka – scenography, direction
Martin Černý – props
Daniela Flejšarová, Kateřina Štefková – costumes
Lukáš Pondělíček – lighting
----
---
3rd International Music Festival of Central-Eastern Europe Eufonie
Romanticism in Central-Eastern Europe
20 – 28 of November 2020
Organizer: Ministry of Culture and National Heritage, National Centre for Culture
Patron: PKN Orlen S.A.