[CANCELLED] Freszel / Böhmová / Silesian Quartet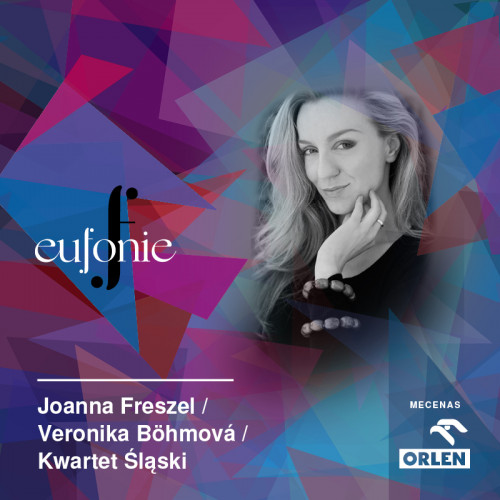 Quartet, piano, winner of the Passport of Politics, Stanley Kubrick's favorite composer at the Eufonie Festival
Quartet, piano, winner of the Passport of Politics, Stanley Kubrick's favorite composer at the Eufonie Festival, who will also be hosted at the Royal Castle in Warsaw this year.
On November 24, an outstanding Polish soprano Joanna Freszel will sing in the ballroom. She will be accompanied by the Silesian Quartet and a respected Czech pianist, Veronika Böhmova.
During this extraordinary concert we will hear "Adante and Allegretto" by Gyorgy Ligeti, one of the greatest composers of the 20th century, known not only to music lovers. Fragments of his works were used by Stanley Kubrick in his iconic film "A Space Odyssey". The repertoire also includes two Polish accents referring to romanticism which is our theme this year. We will hear "Audition VI" by contemporary composer Andrzej Krzanowski, composed to a text by one of the Three Seers - Juliusz Słowacki, and "Piano Quintet in G minor" by Juliusz Zarębski, considered the most outstanding example of Polish chamber music created in the Romantic era.
---
György Ligeti (1923–2006)
Andante i Allegretto – for the String Quartet (1950)
Andrzej Krzanowski (1951–1990)
Audycja VI for soprano and string quartet to texts by Juliusz Słowacki (1982)
Juliusz Zarębski (1854–1885)
Kwintet fortepianowy g-minor op. 34 (1885)__
Joanna Freszel – soprano
Veronika Böhmová – piano
Silasian Quartet:
Szymon Krzeszowiec – violin I
Arkadiusz Kubica – violin II
Łukasz Syrnicki – viola
Piotr Janosik – cellist
---
---
3rd International Music Festival of Central-Eastern Europe Eufonie
Romanticism in Central-Eastern Europe
20 – 28 of November 2020
Organizer: Ministry of Culture and National Heritage, National Centre for Culture
Patron: PKN Orlen S.A.