II WORK IN THE CULTURE SECTOR FORUM – Young people on the labour market
ACKiM UMCS Chatka Żaka
-
Lublin
,
Idziego Radziszewskiego 16
Thu 10 — Fri 11 June

2021

r.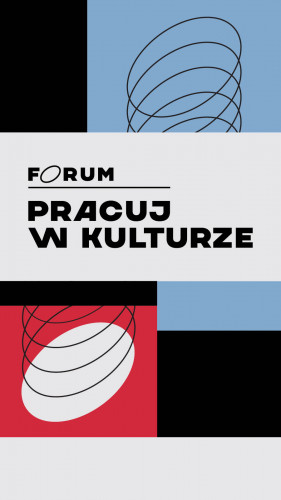 Competences of the future, perspectives on the labour market, recruitment in the culture sector – these are just some of the topics to be discussed during the II Forum Work in the Culture Sector, organised by the National Centre for Culture and the Chatka Żaka University Academic Centre for Culture and Media on 10 and 11 June 2021, in a hybrid mode, just as it was the year before. The second edition of the Work in the Culture Sector Forum – the first such initiative in Poland that comprehensively addresses the issue of working in the culture sector and brings together professionals and practitioners as well as people seeking employment in this sector – will be held in Lublin, at the seat of ACKiM UMCS Chatka Żaka.
The theme of this year's Work in the Culture Sector Forum is: Young people on the labour market. Invited experts will discuss the following topics:
development opportunities for students;
methods of developing a personal brand;
ways of getting started in the culture sector;
ways of establishing cooperation with the business sector;
preparing for the interview.
---
Registration:
II Work in Culture Forum - Day II
---
Two days will be filled with presentations, debates, on-site and online workshops and webinars on the marketing approach to culture, managing a team at a cultural institution or building a personal brand. Around 30 speakers will take part in the Forum, among them outstanding recruitment experts, cultural animators and experienced coaches from the culture sector and the business world. Adam Sztaba, a well-known composer, conductor and music producer, will be our special guest, who will share his experience in creating a personal brand with the forum's participants.
The forum will take place with an actual audience on site and online via live streaming on a dedicated online platform. A maximum of about 150 people will be able to participate on site at the ACKiM UMCS Chatka Żaka in Lublin. Others will be able to take part in the event via the Internet. Those interested in working in culture will benefit from individual consultations and discussions with the experts and trainers participating in the event. Some of the presentations and speeches will be interpreted into English, and the entire conference will be interpreted into Polish Sign Language.